Gun control is a controversial issue that sparks heated debates throughout our country. There are reports of violent crimes spiraling out of control in our nation's cities. Proponents of a permit less gun carry law with no restrictions for concealed carry, cite the need for self-defense. Gun rights activists call this "constitutional carry," based on the Second Amendment's right to bear arms. They believe that more guns in a community are a crime deterrent.
Gun control activists in Florida are alarmed at the prospect of permit less gun carry laws. They focus on examples of gun violence, such as the 2016 shooting inside the Pulse Nightclub in Orlando, killing 50 people and injuring 53 others. In another senseless crime, in 2018, a gunman shot and killed 17 people and injured 17 others in Parkland, Florida. These opponents of permit less gun carry assert that strict enforcement of gun carry laws reduces crime and prevents confrontations from becoming lethal. They believe permit less gun carry brings serious safety concerns. Public safety should be the role of professionally trained law enforcement officers.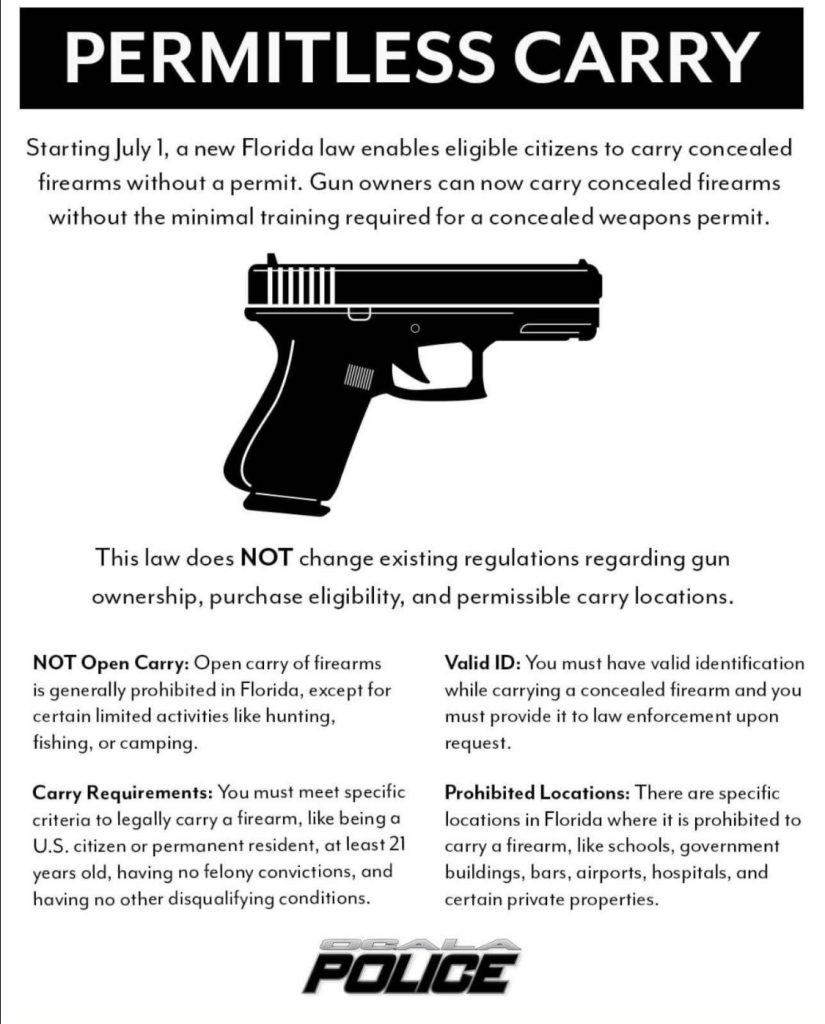 Proposed Legislation
Governor Ron DeSantis strongly supports major changes in the gun carry law in 2023. He is in favor of permitless concealed gun carry and is urging lawmakers to pass this legislation. If the law is passed in Florida, it would be the 26th state in the nation to allow persons to carry concealed and loaded guns without a permit or license. The 2023 legislative session begins March 7th. However, House Minority Leader Fentrice Driskell, who is opposed to this change, says it could happen even before the start of the session.
Current Florida Gun Carry Laws
Residents of Florida are currently permitted to buy and own a gun without a permit. Under Florida law, a gun owner must apply to the Department of Agriculture and Consumer Services for a weapons permit to carry a concealed firearm in public. An applicant must have proof of competency in a firearm safety or training course, be 21 years of age or older, and be a U.S. citizen or lawful permanent resident alien.
Firearms are defined by Florida law as any weapon that can expel a projectile by the action of an explosive, any destructive device, or any machine gun, excluding an antique firearm unless it is used in the commission of a crime. A person who knowingly carries a concealed firearm without a permit may be charged with a third-degree felony, punishable by up to five years in prison and a fine of up to $5,000.
Without a permit, it is permissible for Florida citizens to have firearms in their homes or places of business (for business owners), while traveling to or from a shooting range, or for hunting and fishing. Individuals may transport firearms if securely encased and not readily available for use.
Reasons for Ineligibility for a Concealed Weapon Permit under Current Law are:
Being physically unable to operate a firearm safely
Having a felony conviction
Having a violent misdemeanor conviction
History of drug or alcohol abuse
Two or more DUI convictions within the prior three years
Being adjudicated mentally incompetent
Having a dishonorable discharge from the armed forces
Being a fugitive from justice
Having a domestic violence injunction in force
The AP Law Group Can Defend Your Rights and Freedom
Permit less gun carry will likely become a reality for Florida residents in 2023. If you are a resident or a visitor to Florida and are caught up in the criminal justice system for violations of Florida's concealed weapons law or other gun-related crimes, the experienced attorneys of The AP Law Group can work to reduce or eliminate the charges and sentences you face. We want to hear your story, build a solid defense, and fight for the best possible outcome.
Contact the legal team at The AP Law Group at 352-732-9191. We defend clients facing all misdemeanor and felony crimes in Florida and Federal offenses. Our office locations are Ocala and Gainesville, Florida. We are here to help with life's legal challenges.